About us and organic products from Ghana
Our history is part of the history of Ghana.
The "Gold Coast", as the first conquerors called it, today Ghana (Republic of Ghana) is a West African country with access to the Atlantic Ocean, bordering the Ivory Coast, Burkina Faso and Togo.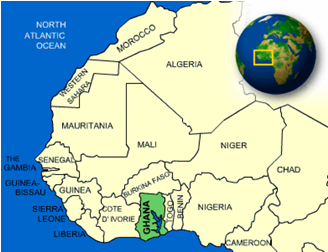 When someone says "AKWAABA" in Ghana, they say "WELCOME" in the AKAN language. And you will really feel like a welcome guest, you will feel the warmth and cordiality of these people.
Taking into account all these events that followed the history of Ghana, we can conclude that the "Gold Coast" is not exactly the most desirable place for tourists from the West, especially from Europe, but on the contrary, the people of Ghana are considered one of the most friendly and hospitable peoples Africa, because for them one of the words of the Akan tribe is also important – "UBUNTU", which means "TO BE A HUMAN".
Besides wonderful people, Ghana's main natural wealth is its fertile soil, and its main mineral is gold, which is why Ghana is often called the land of gold, timber, cocoa and oil.
What is little known in the world is the fact that many different organic products are produced in Ghana. These products are mostly traditionally used in the local market. Our company ORGANIC ONLY wants to bring these amazing products closer to the market, first of all in Serbia, but also in Europe, Russia and all those people who believe that nature is our best provider and doctor.
The products we offer you are non-GMO, completely organic, without the addition of any fertilizers. A large number of products were obtained by manual production in the traditional way. All products are certified and have a geographical origin. In addition to the original certificates, the products have all the necessary permits for use and certificates issued by the competent authorities of the RS.
Amazing products from an amazing country for amazing people.
Organic products should be available to everyone. Together with our consumers, we want to get the best of nature and learn how to do it. We want to help Ghanaian producers in this way, and to preserve and learn traditional ways of production, because this is the only way to jointly preserve the place where we live.
I accidentally started using shea butter when a friend who worked in Ghana brought it to me. It was an unknown product for me until then. After just a few days, I realized that it is my ideal cream for face and body care.
This is truly "liquid gold," as the natives of Ghana call it.
There's a good reason shea butter is found in many facial moisturizers and body lotions. It acts as an emollient and helps retain moisture in the skin. Because it contains several types of fatty acids—including linoleic, oleic, palmitic, and stearic acids—that improve the skin's natural barrier, shea butter also protects the skin from environmental damage like pollutants.
The American Academy of Dermatology (AAD) recommends daily use of this product.
You know what they say about butter or margarine, "it mixes in everything", and that's what I like to say about cocoa.
It can be mixed with both salty and sweet, it's just up to you to choose what you like better.
Coconut oil – one product with many uses: as food, as a hair mask, as a body lotion, or simply as an essential oil to make your home smell good.